Wireless networks are often designed to provide coverage and connection in all areas where wireless client devices are likely to be present. A user's location is typically unimportant as long as wireless service reaches there. Wi-Fi location tracking is necessary for various situations, and a wireless network can help provide such information.
A wireless client, such as a mobile device, must first be authenticated and associated with a wireless Access Point before it can access the network. The client can therefore be discovered based on the AP to which it is currently connected using Wi-Fi positioning system.
However, since a single AP can cover a wide area, it could not be accurate enough for other use cases. Furthermore, a wireless client device may not roam aggressively, so it could remain associated with an AP, even if there's an AP with a stronger signal nearby. Wi-Fi networks' design also affects the accuracy of the device location.
Wireless Device Location with One AP vs. Multiple APs
To locate Wi-Fi devices more precisely, the Access Point can utilize the client device's Received Signal Strength (RSS) to calculate the distance between them. However, it is hard to discern where the client is located when measuring the distance from a single AP.
With a single indoor AP using an omnidirectional antenna, the client may be located along a fixed distance because the RSS would generally be consistent at all points along the circle, as shown in the image on the left side.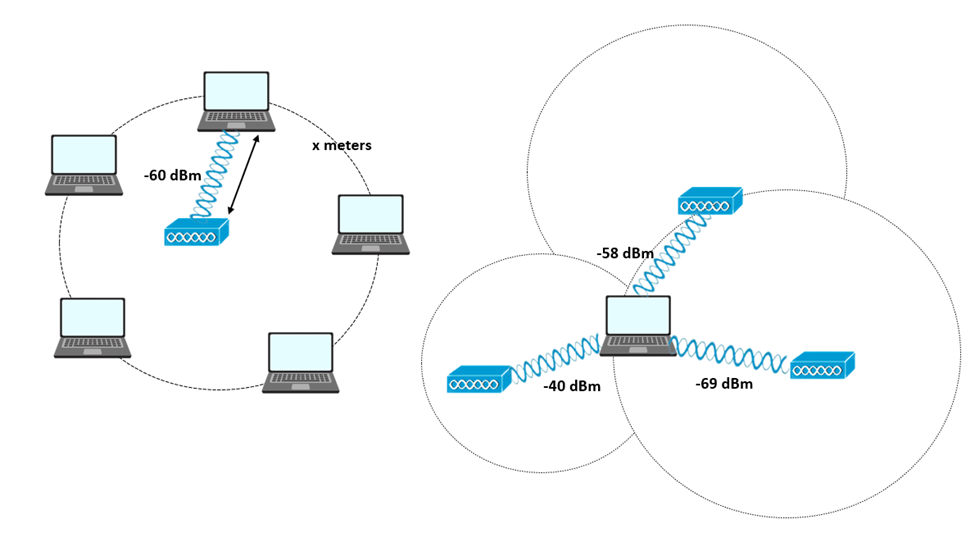 A better approach to having an accurate location is to acquire the same measurement from three or more Wi-Fi Access Points and then compare the findings to see where they overlap, just like in the image on the right.
Real-Time Location Services (RTLS)
The Wi-Fi networks' components can be integrated with additional resources to offer Real-Time Location Services (RTLS). Cisco Access Points and WLCs can be incorporated with management platforms like DNA Center and location servers like Cisco Mobility Services Engine (MSE), Cisco Connected Mobile Experiences (CMX), and Cisco Spaces to collect and present real-time location information.
A wireless network infrastructure does not provide real-time location. With split-MAC architecture, the Access Points connect directly with the clients at the lowest real-time layer. The WLAN controllers discover the clients from the APs and handle normal data forwarding.
The WLCs must keep the management platform informed when clients probe, join, and leave the network and forward wireless statistics, like a client's RSS value. The real-time location for the device should be calculated on a different location server platform.
Wi-Fi Tracking: 802.11 Probe Requests
In a Wi-Fi network environment, physical objects, like walls, furniture, etc., obstruct and reduce the RF signals, which affects the device's location accuracy. Cisco utilizes RF fingerprinting, in which an RF calibration template influences the mapped area, which is more accurate to APs and clients' current signal attenuation.
The map calibration may be determined manually by going across the area and recording the actual RF measurements using a device. It can also be used in conjunction with a set of models, such as high ceilings and drywall offices, that depict how the structure of a mapped area may affect signal propagation.
A client device can associate with one AP at a time, but multiple APs can know about the client. Moreover, the client and the AP with which it is associated would communicate on a single channel, while other APs would most likely use different channels. This is made possible due to the 802.11 Probe Requests used by wireless devices to discover nearby APs. The client sends Probe Requests on its supported channels and bands.
Nearby APs will receive the Probe Requests on their respective channels, which originated from the same client MAC address. In addition, the real-time location system also allows tracking of Wi-Fi devices that might never associate with an AP.
If the device has Wi-Fi enabled, it will likely probe for potential APs. RFID tags can also be used to track and locate objects. Some RFID tags connect to the wireless network for data exchange, while others just "wake up" and send 802.11 Probe Requests or multicast frames to indicate their existence.
A rogue device can probe the network, but it can be detected and tracked. Interference sources, like cordless phones and wireless video cameras, might not support the 802.11 standards. However, Cisco APs can recognize interference and determine the RSS on a channel using dedicated spectrum analysis and the Clean Air functionality. The location server can utilize this information to calculate the interference source's possible location and present it on a map.
---
Download our Free CCNA Study Guide PDF for complete notes on all the CCNA 200-301 exam topics in one book.
We recommend the Cisco CCNA Gold Bootcamp as your main CCNA training course. It's the highest rated Cisco course online with an average rating of 4.8 from over 30,000 public reviews and is the gold standard in CCNA training: