Cisco AnyConnect Secure Mobility Client is a unified security endpoint software product that enables an enterprise to extend its access to support remote users across wired and wireless connectivity and also Virtual Private Network (VPN) connection. AnyConnect heightens business success by enabling users to work on their own devices anytime and anywhere without compromising their enterprise's security.
Cisco AnyConnect Secure Mobility Client provides VPN access via TLS/SSL (Transport Layer Security/Secure Sockets Layer) and IPsec Internet Key Exchange version 2 (IKEv2). Network roaming capability and built-in modules are supported, like VPN and ISE Posture modules. These modules enable AnyConnect to assess an endpoint's compliance to antivirus, antispyware, and firewall software. If the endpoint is assessed to be non-compliant, then the network access can be restricted. It also allows and supports certificate deployment through AnyConnect integrated SCEP.
NOTE
The SSL protocol is already deprecated. Therefore, TLS/SSL can be depicted as referring to just TLS.
Cisco AnyConnect Supported Platforms
Cisco AnyConnect Secure Mobility Client can be used on the following desktop and laptop platforms:
Cisco AnyConnect is also supported on the following devices through Cisco AnyConnect Secure Mobility Client for Mobile Platforms:
Apple iOS
Android
Windows Phone
BlackBerry
Amazon Kindle
Fire Phone devices
Google Chrome OS
Cisco AnyConnect is compatible with all Cisco ASA 5500-X Series, Enterprise Firewall 5500 Series with Cisco ASA Software (8.0(4) ). The latest appliance software releases are encouraged to be used. The image below shows the Cisco AnyConnect user interface and settings using an Android device: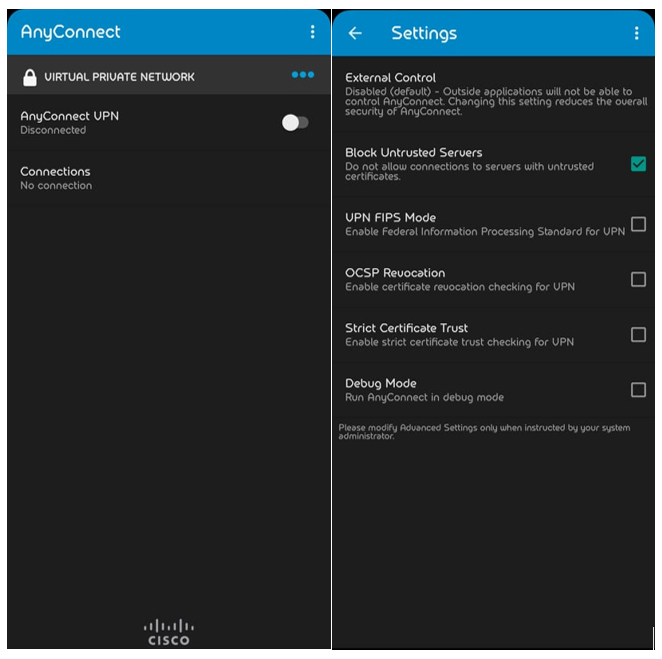 Cisco AnyConnect Benefits and Features
Using Cisco AnyConnect can effectively defend and improve network operations by monitoring every endpoint, whether accessing an email or a virtual desktop session, so it can rapidly block attacks before they reach your network. Implementing encrypted network connectivity and multi-factor authentication protects the network and gives more insight into user and endpoint behavior. Thus, delivering persistent corporate access with full visibility across the extended enterprise. Cisco AnyConnect Secure Mobility Client also offers the following features and benefits to its customers:
Unified Endpoint Compliance
Cisco AnyConnect Identity Services Engine (ISE) Posture Module provides unified endpoint posture checks in Cisco ISE deployments. It is the main source of endpoint posture checking for OS levels, latest antivirus, malware, and spyware updates, application and hardware inventory, and other endpoint checks to identify the compliance state and reinforce the endpoint security.
Cisco Adaptive Security Appliance (ASA) provides endpoint posture checks in VPN-only deployments using the Cisco AnyConnect Hostscan Module.
Highly Secure Network Access
Cisco AnyConnect Network Access Manager allows administrators to control which networks or resources the endpoints can connect. It also offers an IEEE 802.1X supplicant that can be provisioned as part of AAA capabilities, along with some encryption technologies.
Web Security
Web security implementation is either through the on-premise Cisco Secure Web Appliance or the cloud-based Cisco Secure Web offering. Incorporating web security and VPN access together allows administrators to provide secured mobility to all of their end-users. Enterprises can choose between defending their network against web malware and controlling and safeguarding their web usage.
Network Visibility
The VPN Network Visibility Module on desktops and laptops gives administrators the ability to observe the endpoint application usage so that they can discover potential behavior anomalies and have better decisions regarding their network designs.
Off-Network Protection
DNS-Layer Security incorporates Cisco Umbrella Roaming, which is a cloud-delivered security service. It protects the devices even if they are not connected to the corporate network via VPN, so the DNS layer is protected against malware, phishing, and command-and-control callbacks over any port or protocol.
---
Download our Free CCNA Study Guide PDF for complete notes on all the CCNA 200-301 exam topics in one book.
We recommend the Cisco CCNA Gold Bootcamp as your main CCNA training course. It's the highest rated Cisco course online with an average rating of 4.8 from over 30,000 public reviews and is the gold standard in CCNA training: